How Do Good Men Teach Men to be Good?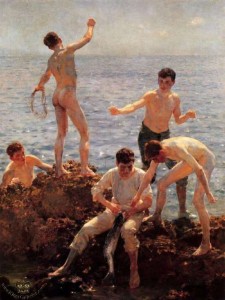 The world has changed a lot for men in the last few years. It used to be that there was no room for us to think about who we were or what it meant to be society's people with penises.
However, there's now some room for men to talk about how to be a man in a healthy way, without that conversation being squashed by the culture of misogyny. I've recently realized that this presents a unique opportunity for me. Because the New Leaders of Men are not the men of Wall Street or Mad Men, they're people who uphold positive examples of integrity, and promote equality. And there's no one who promotes equality more than me. Not a one.
The question is: if you are one of the pinnacles of modern male humility, what's the best way to take that out into the world and teach other men to be the same way?
I've written blog posts, recorded an audio podcast, and now launched a video channel, but despite all of the Dr. Matt media explosion, I feel like there are always new and powerful ways to reach men and teach them what I know. Because there is a lot that I know about being a man.
But what would be the best way? A new book? Live seminars? One-on-one coaching? It's a question I'm going to be asking myself, and I'll let you know when I come up with the answer. Because I really want to find a way to teach this next generation of men. I feel like they need it.
Anyway, I should wrap this up and get back to Fraser. I'm supposed to be watching him right now, and his cartoons are almost over.
Just My Thoughts,
Dr. Matt